About 'Understanding Cement'

Thank you for visiting - I do hope you have found the content of this web site interesting and useful. 
I'm really glad you are reading this page as it probably means you are, quite rightly, doing your 'due diligence' about the sources of your information. There is a lot of information on the web on all subjects under the sun. Probably at least half of it is wrong. We should all be cautious - just because it is on the web doesn't mean it is correct. So, a little bit of background follows outlining how this website came about.

'Understanding Cement' is a website, a seminar, and a book for cement and concrete professionals who wish to know more about cement.

'Understanding Cement' first appeared as a website in 2005, but has its origins in about 1990 as a seminar for cement manufacturers, ready mixed concrete people and other cement and concrete professionals. Since then, the content has expanded and the internet has appeared as a new medium for communication.

Back in the 1970s-80s, I worked at the research division of a major cement manufacturer, where I was lucky enough to work with some world experts on cement. In 1987, some colleagues and I left and formed a small consultancy offering services based on cement chemistry and microscopy to the construction industry. This consulting work still occupies most of my time; clients include cement manufacturers, ready mixed concrete companies, concrete product manufacturers, consulting engineers and other experts.

'Understanding Cement' - the website, book and seminar, and other manifestations that may follow - are therefore based on the grounding in cement I received when working for a cement manufacturer, then on my consulting experience over the last 28 years or so for cement manufacturers and others. I am very grateful to the people who have kindly assisted me in the content of the web site and book. Any errors are of course down to me so please do let me know if you spot any!

My consultancy - WHD Microanalysis Consultants Ltd., is a small privately-owned company in the United Kingdom specializing in the examination of cementitious materials. WHD has its own web site (new web site well overdue; the old one is looking its age) at www.whd.co.uk for the examination of cement and concrete, mainly by optical and scanning electron microscopy. If you would like to discuss our consultancy services, I can be contacted via the Contact Form.

New pages are planned for the 'Understanding Cement' web site so if you have any suggestions for the content of web pages, I'd love to hear them.

Most of the material on this site, and in the other 'Understanding Cement' products, is intended to reflect mainstream scientific thinking concerning cement and concrete. This is not a place for pet theories that have not undergone the normal procedure of peer review. The exception is the Blog section, where a few random thoughts and jottings may just creep in!

Please do keep in touch - you can do this easily and quickly by signing up for our Newsletter.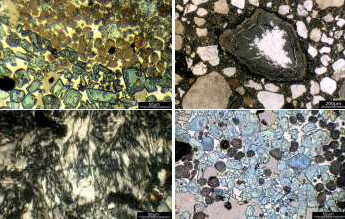 As a 'thank-you' for subscribing to the Newsletter, there are some free downloads: an ebook on cement-related concrete strength issues; some rather nice images of cement clinker and concrete taken with a petrographic microscope or SEM, and our Cement Glossary in pdf format.
Incidentally, if you should be thinking about setting up in business on your own (or maybe someone you know is contemplating it) you might like to have a look here at my story of how understanding-cement.com came to be in the top 0.5% of ALL websites!

Best wishes to you in your cement work.

Nick Winter